Eat Chicken Feet and Cow Hooves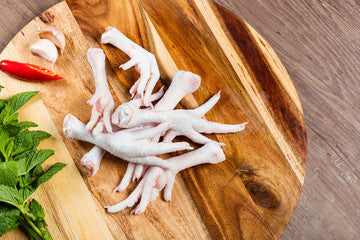 Trapped in a cycle of continuous debt, the country of Egypt has been driven into currency collapse and rampant inflation.  An estimated 30% of Egyptians now live below the poverty line. 
       Egypt's National Institution for Nutrition has made public statements encouraging people to eat chicken feet and cattle hooves as cheaper protein alternatives to traditional beef and chicken cuts.
       A Friend of Medjugorje has said for many years, prophetically, quote:
"Get your food...

from your ground...

to your mouth...

as fast as you can."
       A Friend of Medjugorje has also explained that while you are working towards building your own agrarian based system (no matter how small), excess money that you have in bank accounts or investment accounts should instead be exchanged for physical silver. 
       Bank of America had a "GLITCH" on Wednesday that removed and withheld money from customer accounts without warning.  Any digital money is subject to instant theft or an account freeze --- but they cannot freeze or electronically take your silver.
       As you advance your own agrarian/food system, you may exchange for things that you need directly with the silver Miraculous Medal Medjugorje Rounds.  Or, if the US Dollar still exists when you need to make a purchase, you can turn your silver back into dollars to purchase what you need.  In the mean time, you have the peace of knowing your silver cannot disappear in a poof.
      Lastly, chicken feet can be part of making an excellent soup broth.  But most people would rather chicken feet be a compliment to their meal instead of the main course.  The choices you make now will have a concrete impact on what you eat in the future and what your future looks like.
       Call Century Silver for the Miraculous Medal Medjugorje Rounds at 877-936-7686.
Disclaimer: Any written sources provided by Century Silver Exchange are based on Biblical principles and designed to give you accurate and authoritative information regarding the subject matter covered. The information is provided with the understanding that Century Silver Exchange is not engaged to render legal, accounting or other professional advice. Since your situation is fact-dependent you may wish to additionally seek the services of an appropriately licensed legal, accounting, or real estate professional. The information included in written resources may have already been changed by recent events and must be verified elsewhere before choosing to act on it. Miraculous Medal Medjugorje Rounds and related products may appreciate, depreciate, or stay the same depending upon a variety of factors. Century Silver Exchange cannot guarantee, and makes no representation, that the Miraculous Medal Medjugorje Rounds and related products will appreciate.